KAUST research scientist Dr. Viko Ladelta, who is part of Distinguished Professor Nikos Hadjichristidis' research group, recently received the best poster award in the category of "Polymer Synthesis and Characterization" at the 16th Pacific Polymer Conference (PPC-16). PPC-16 took place from December 8 to 12, 2019, in Singapore.
Ladelta's award-winning work, titled "A New Double Catalyst Switch Strategy Enables Access Towards Tricrystalline Tetrablock Quarterpolymer," was co-authored with Hadjichristidis. The work examines developing a facile one-pot synthetic strategy towards multicrystalline multiblock polymers using organocatalysts.
PPC occurs every two years and is organized by the Pacific Polymer Federation (PPF). Founded in 1987, PPF includes members from 16 different countries bordering the Pacific Rim, with PPF scientists focusing on polymer research and innovation and interaction between polymer organizations.
2019's event brought together more than 1,000 outstanding polymer scientists from member countries to network and discuss research ideas and "hot" topics in polymer science.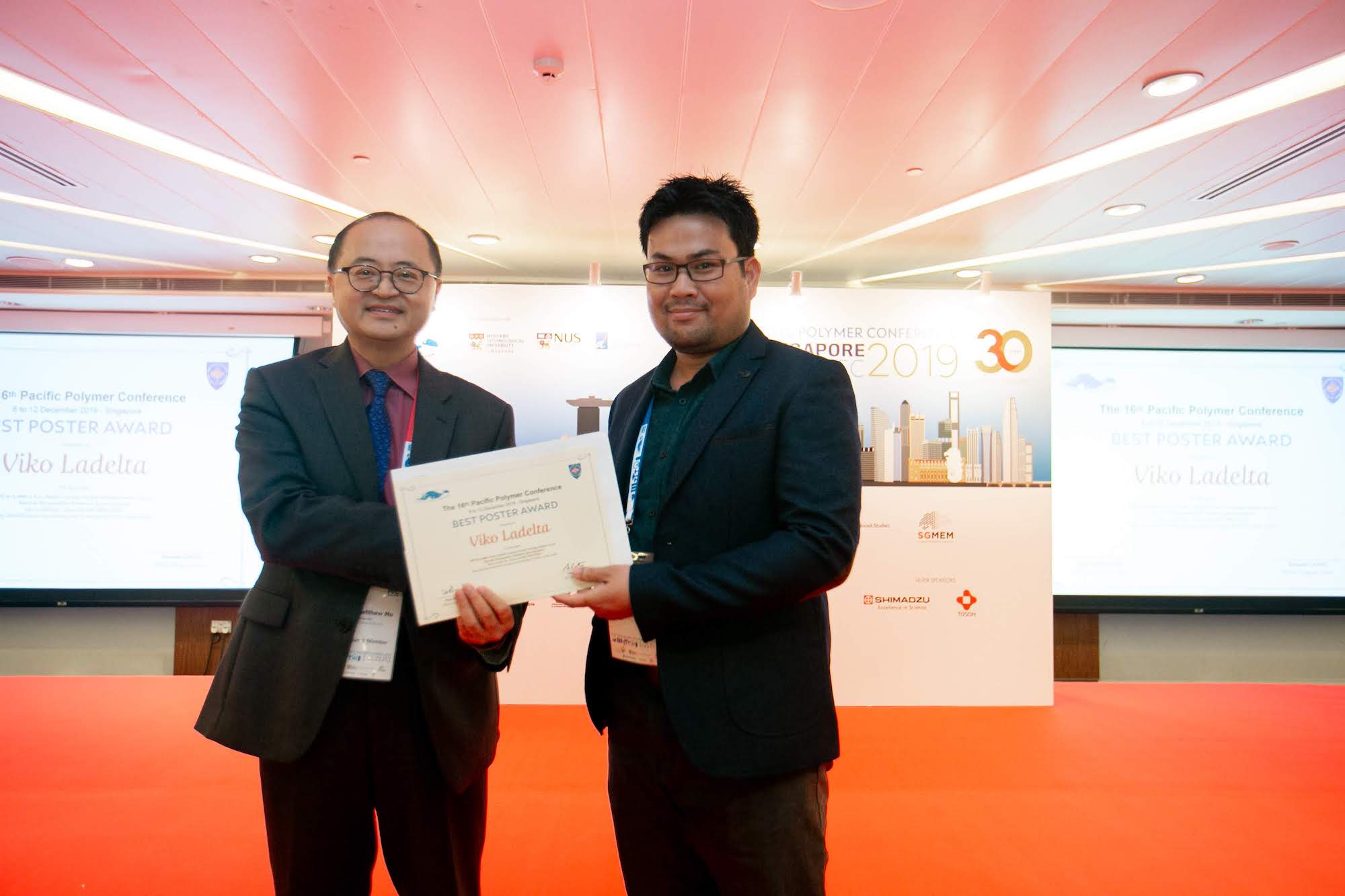 Dr. Viko Ladelta (right) is pictured here receiving his best poster award certificate during
the 16th Pacific Polymer Conference in December 2019. File photo.
From Indonesia to Japan to KAUST
Ladelta completed his bachelor's and master's degrees in the Chemistry Department of Andalas University, Indonesia, focusing both degrees' theses on the synthesis and application of magnetic nanoparticles from natural resources.
After obtaining his master's degree in 2011, he moved to Japan to begin his Ph.D. in the Chemistry Division, Graduate School of Engineering Science at Osaka University. There, he studied polymer chemistry and the synthesis of fullerene-containing polymethacrylate and its application for organic photovoltaics.
In January 2016, Ladelta arrived at KAUST as a postdoctoral fellow. He first heard of the University in 2013, when KAUST Distinguished Professor Yves Gnanou spoke at Osaka University during a symposium, introducing attendees to KAUST and its cutting-edge research facilities.
"More importantly, I found out that the leading figures in polymer science—like Prof. Nikos Hadjichristidis and Prof. Jean M. J. Frechet—were at KAUST," Ladelta said. "This also motivated me to come to KAUST."