​​King Abdullah University of Science and Technology (KAUST) is drawing together the university's pioneering research across the four Rs of carbon management: Reduce, Reuse, Recycle and Remove.
The recent launch of the KAUST Circular Carbon Initiative (CCI), aim to connect more deeply the different strands of our Circular Carbon Economy research, to create a strong and well-informed network of researchers at different career stages, to identify and seek to engage missing expertise and to proactively contribute to the ongoing efforts of the Kingdom of Saudi Arabia to implement a CCE National Program.
Researchers, scientists and students gathered to share new experiences, ideas, discuss on the Circular Carbon Economy and research aimed at fostering a more sustainable future.
Jorge Gascon, director of KCC and Circular Carbon Initiative Lead, was speaking about this project that showcase KAUST research in five differents themes: The City of the Future, Farming of the Future, Nature-Based Solutions, The gas station of the future and closing co2 cycle.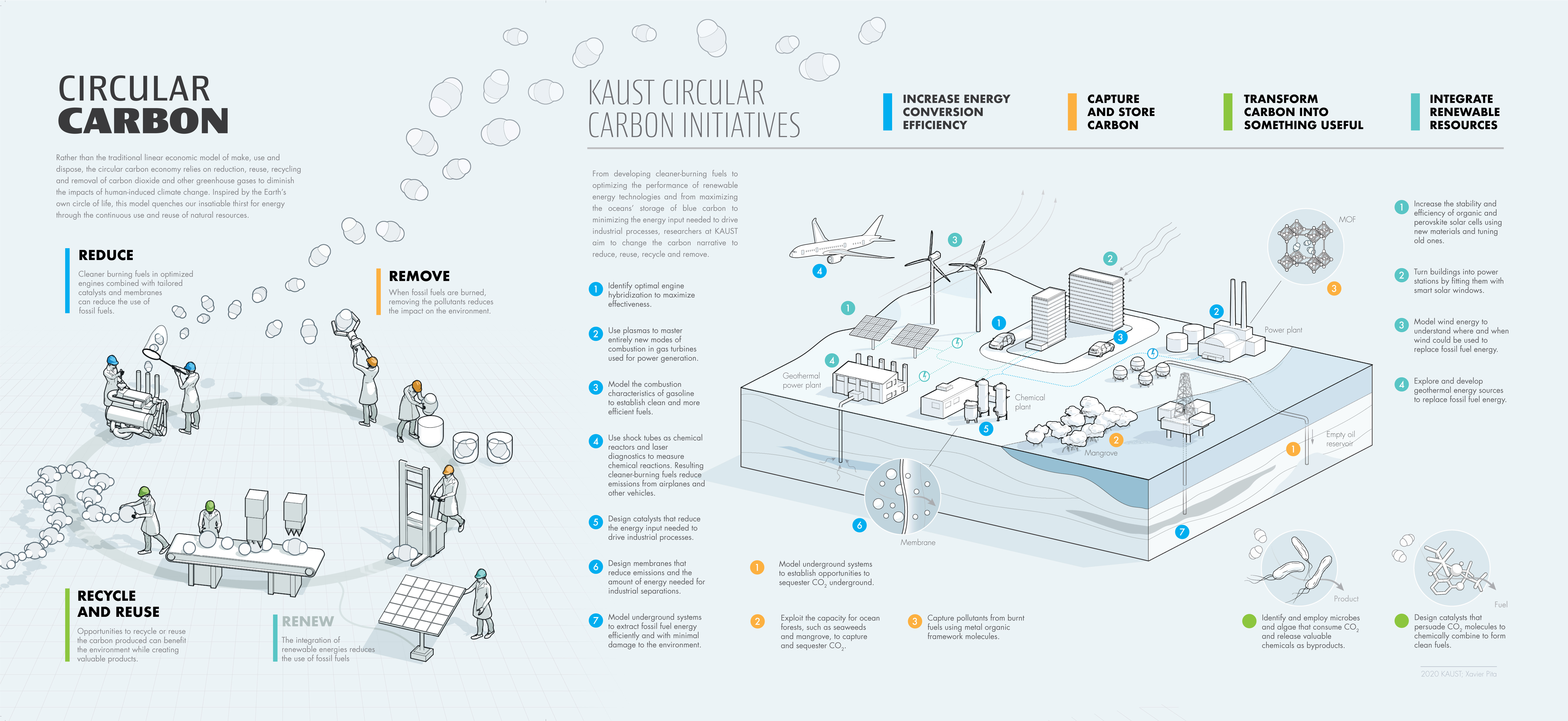 About Circular Carbon Initiative:
In September 2020, the G20 Energy Ministers pledged to endorse the Circular Carbon Economy (CCE) Platform as a tool to manage emissions and foster access to energy, acknowledging this Platform as a holistic, integrated, inclusive and pragmatic approach to managing emissions while providing new pathways toward economic diversification and growth for the Kingdom of Saudi Arabia. Since KAUST's inception in 2009, research into CCE technological solutions has been an integral part of our portfolio, including CO2 Capture, Nature-Based Solutions, Renewable Energy, and CO2 Utilization.
With the launch of the KAUST Circular Carbon Initiative (CCI), we will connect more deeply the different strands of our CCE research to support the creation of a National Platform for the promotion, adoption and rapid deployment of CCE technological solutions. Please join us for this exciting launch event where we will showcase the work KAUST is doing to foster a more sustainable future and address the needs of Vision 2030.
Learn more: https://cci.kaust.edu.sa/